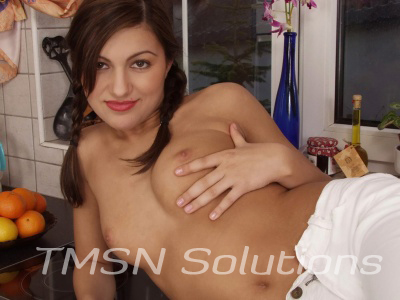 Sir wraps the leather cuffs around my wrists and ankles.  I become instantly wet at the feel of the inner fur lining against my skin.  The strength of his grip on my body makes my pussy ache and clench with slutty desperate need.
Sir gently pushes me down on the bed.  Taking hold of my left arm, he stretches it up and clips it into place on the headboard.  Just the sound of that little snap causes my pussy to gush anew and my breath to catch in my chest.
Soon I am securely tied down and completely helpless and vulnerable.  Do you like a submissive slut at your mercy?  I would love it if you called me and told me all the nasty ways you would use my body.
Zesty Zoey
1-844-332-2639 Ext 403